WHAT ARE SIPA?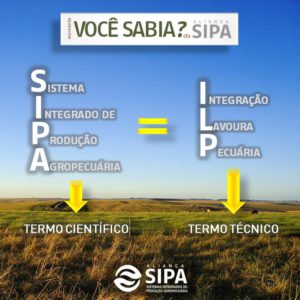 The Integrated Crop-Livestock Farming Systems (SIPA) have as proposition the association of crop and livestock production, in order to explore synergims resulting from these production models. The Integrated Crop-Livestock Farming Systems (SIPA) are also known as Crop-Livestock Integration. The integrated crop-livestock farming systems have been acknowledged as unique options of production systems where it is possible to seek, simultaneously, production intensification and environmental sustainability.
The system's conservationist cornerstones are the no-tillage system, the best management practices, the effective input use and the grassland use in moderate livestock grazing intensities. The diversification is brought by crop rotation, interspersed with grazing stages, where its synergic arrangement recycles nutrients more efficiently and decreases pest, disease and undesirable plants occurence.
The effectiveness, in a property level, is brought by better nutrient utilization, less input use per amount of food, by greater efficiency in staff and machinery use, by greater financial liquidity, by increased income in the same area e by decreased agricultural operational risk .
WHAT IS THE SIGNIFICANCE OF SIPA WORLDWIDE?
At the global level, FAO acknowledges the potential of integrated systems as a sustainable path to feed nine billion people in 2050. According to the organization, these systems are able to increase environmental resilience by increasing biological diversity and by effective and efficient nutrient cycling, which leads to soil quality improvement, as well as promoting ecosystem services and contributing to climate change mitigation and adaptation.
FAO also lists as benefits the improvement of production processes, including labour utilization, economic resilience and decreased risk.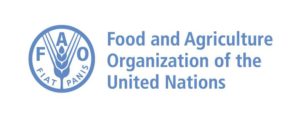 Under a sociocultural perspective, it must be emphasized that integrated systems allow rural producers to achieve social aspirations and seek equal social dynamics (especially for women and youth), promoting food safety while being a system that fits the consumers' demands regarding product quality and production processes.
In addition to represent a solution for the increasing food demand, the integrated systems provide great greenhouse gases mitigation, showing off as the best response coming from farmers to the international community appeal.

WHAT IS THE RELEVANCE OF SIPA IN BRAZIL?
The broad potential of SIPA implementation in Brazil makes the country an important player in a global context of reduction of greenhouse gases emission. The country has made a commitment to reduce between 36.1 and 38.9% of its CO2 emissions until 2020.
Among many initiatives in this sense, is the fostering to SIPA adoption in Brazil, since it is a technology acknowledged as a carbon scavenger. There is a government commitment to increase in four million hectares operating this system.
In southern Brazil, the SIPA are widespread as a proposal to an efficient land use during intercrop period, diversifying the property, decreasing crop risk and improving soil.
The existence of millions of hectares that become set-aside lands during winter or, more often, that remain with plant coverage aiming straw production for summer crops, is broadly recognized. There relies the main opportunity for SIPA to be applied in southern Brazil.